Digital Magazine - Yes or No?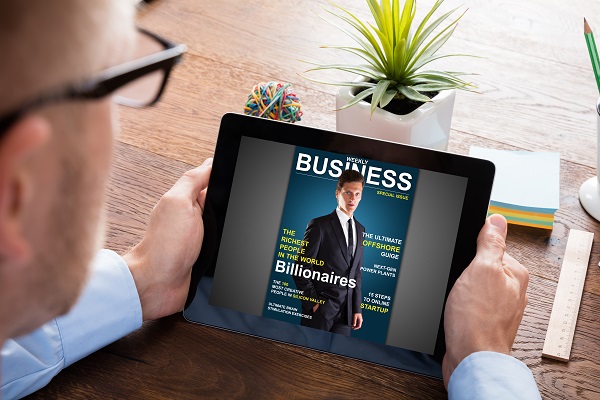 March 04, 2019
With a broad audience reach and a friendly user experience, it's no wonder digital magazines are gaining popularity.
Digital magazines have many advantages, including the ability to reach readers on a global scale, regardless of their geographical location. Another advantage is the ability to track user engagement and thus identify their favorite topics. These conclusions will help you later on to publish content that is more tailored to your customers and ensure their satisfaction.
So, what is actually a digital magazine?
Digital magazines have the same great features as the beloved magazines sold at stands or delivered to your front door – the only difference is they can be easily reached by clicking a button or scrolling the screen. All interviews, articles, news, photos or surveys are available online. Another advantage is they are more environmentally friendly because there is no need for printing, packaging, and delivery.
Online magazines are available any time and can be used when you wait for a train or a doctor, when you are bored during a break or when you feel like reading something in the evening while scrolling your mobile device. They are very convenient to use in different devices as they are published in PDF format. It's easy to browse or read them in landscape or portrait mode on your mobile phone, tablet, or computer, and if you forget your reading glasses - you can zoom in and enlarge the text. From a marketing perspective - when your customers love what they read, they can share it easily and instantly with others.
Before you decide to start a digital magazine, it is important that you act in an orderly manner to ensure continuity and consistency of your magazine. Here's how to start:
• Define the topic of your magazine. Ask yourself if you have the relevant knowledge. Will you need to use services from content writers or experts?
• Conduct research about existing content, publications and magazines similar to your topic. Now think: what are you offering your potential readers in order to make them choose your magazine over content published by your competitors?
• Choose a name for your magazine that will reflect your readers with what they can expect from your magazine. It is recommended to choose a name based on SEO principles (Search-engine optimization).
• Think about how to distribute the magazine. You can use newsletters and social networks, but you should build a strong and stable infrastructure in advance.
Why should you publish a digital magazine and who does it fit?
In the digital age, where everyone can publish content without the need of being an expert on the matter, digital magazines are more essential than ever. Why? In its essence, a digital magazine contains more in-depth and versatile content on various subjects. Therefore, many marketing managers use digital magazines as an effective tool to create a more meaningful relationship between the brand and its customers as part of their marketing strategy.
If you are looking to increase your impact on your customers, increase your newsletter subscribers list and generate more revenue, a digital magazine can be a great solution for you!
Research on digital publishing has found that one of the great advantages of digital magazines is that the content can be completely interactive. This is done through links, interactive ads and video clips that create an interesting and overwhelming experience among customers.
A digital magazine is especially suitable for companies that can produce a lot of interesting, high-quality content for their audience. You can also include the articles in your marketing email strategy, and incorporate them into your newsletters to enrich them. Not only does a magazine position you as a knowledgeable expert in your field, but it is also an excellent communication tool for a community of professionals.
When should you avoid publishing a digital magazine?
Digital magazines have a lot to offer, however, like other marketing tools, there are some cases where it is not recommended for your marketing strategy. Today, any company or individual can write a blog or post information online on any subject under the sun. Therefore, it is sometimes difficult to get the attention of your readers. Not only are we living in an era where people are flooded with information that is easily reached, but only a few are willing to pay for content on a regular basis. So it's important to publish content that readers can't find anywhere else. If that's not possible, they may not find any interest in your content.
In order to write high-quality and unique content, you need to invest time and energy. Organizing, purchasing images, writing, editing and publishing a magazine, working with a number of different content writers, is more than just a hobby. In most cases, publishing a magazine on a regular basis may require a full-time job and in hiring a manager and experts. If your business can not afford the time and expense involved, it is best to avoid creating a magazine and making such a commitment to your readers.
Conclusion
It is important to set your goals in publishing a digital magazine, in order to enjoy the many benefits this tool can offer. What do you hope to achieve from the magazine's publication? Is your goal to increase the audience exposure to your services? Do you aim to position yourself as an expert in your field and publish high-quality articles? Is it right for you to monetize the magazine? We are here for you to define the right content for your audience, to build a content plan, to characterize and design the magazine, and of course, to help you distribute it by email marketing with an effective call-to-action.
---