The Key to Successful Email Marketing Is in the Data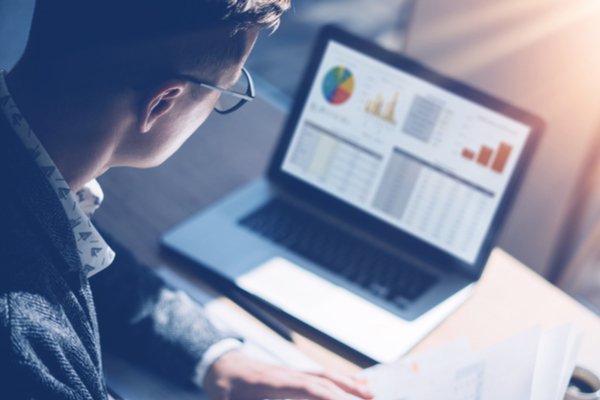 December 17, 2018
Many business owners say that they don't analyze the data of their email campaigns because they simply don't have enough time. Ironically, if they do spend time understanding the reports, they'll be able to run more efficient campaigns in the future and avoid wasting time on campaigns that aren't relevant for their subscribers.
Keep in mind that when you're focused on the important metrics, it doesn't necessarily take long to analyze the data. It is important to implement it in your routine because the analysis allows you to gather the necessary knowledge about the behavior of your audience. How can you improve future campaigns without knowing what drives your subscribers to act, what their preferences are, and what key trends are rising from the data? Without understanding the outcomes of your campaigns, your efforts are wasted, and you will repeat the same mistakes over and over again.
Therefore, before your next campaign, we encourage you to take the time for the relevant conclusions and then maximize it. Use our guide to get the most out of your reports.
First of All: What Is Your Goal?
Defining the goal for which you are launching your email marketing campaign will help you focus on the relevant data. Is your goal is to grow your mailing list? Improve click-through rates? Retain your subscribers and convert them into paying customers?
Then, when you look at the data and understand how your campaign servers your goal, you can decide on your next steps in order to improve performance in the next campaign.
What Are the Most Important Metrics to Pay Attention To?
There are several necessary metrics that must be addressed:
• Click-through rate (CTR): This is probably the first metric you want to track. This metric represents the number of users who clicked on one or more links within the email you sent. Over time, you can see how the CTR rate changes, and therefore conclude which emails are more engaging and encourage your subscribers to act. CTR is particularly important in A / B testing because it makes it easy to understand what content affects your subscribers more. You can also save a list of subscribers who clicked on your links and then send them targeted emails.
• Conversion rate: This metric represents the number of visitors who not only clicked on your link but also have taken an action on your site - such as purchasing or subscribing to a service that you offer. The conversion rate is especially important to understand how many of the users who were interested in your offer, found what they wanted on your site. This is directly related to the call to action you've used in your email and is directly related to your goal. Therefore, the conversion rate will help you understand whether you have achieved your goal through the campaign. Moreover, with this rate, you can understand whether the promise you made in the email was realized on your site and whether your site is friendly enough and encourages customers to take the desired action.
• Mailing list growth or churn rate: This metric will help you understand whether your subscribers find value in the emails you send them. More than the goal you defined at the beginning of the campaign, you also want to give your users valuable information. With this metric, you can get a better understanding of how your emails interest your subscribers. You can track trends over time, and positive or negative peaks for a specific email. This will help you reach important conclusions about the value you provide through your email marketing. • Open rate by day and time: With this important metric, you will be able to answer these important questions: Is there a specific day when your subscribers are more active? Are they more likely to be interested in your service in the morning or in the evening? In our experience, different mailing list subscribers have different habits, so it is important that you understand your unique audience. With this data, you can deliver your emails on a certain time in the day that increases your open rate. Over time, as you get even more precise, you can create reading habits, like the Friday morning reading, that creates anticipation for your next email.
• Return on Investment (ROI): As with any marketing channel, you will eventually want to evaluate whether the campaign was profitable in terms of investment. Meaning, comparing your investment on the campaign, to your revenue. Also, it's worth considering your potential income, for example, if customers have registered for additional information, or have signed up for a service that leads to purchasing.
Now, What Do We Do with This Data?
After understanding what the most important metrics stand for, the next step is to understand their meaning, and especially how to deal with negative trends that may arise.
• What if my email open rate is low? There can be several reasons for that. Was it delivered on the optimal time in the day? Is the delivery frequency too high or too low? You can experiment with different times in the day, and follow the opening trends. Another reason that may affect the open rate is the subject line you selected. Have you chosen a clear and catchy topic, between 4-7 words? Did you personalize the subject line to increase engagement? Try different approaches to your subject line, and see how they affect the open rate over time. In addition, the email content may not match your audience's interests. A good way to improve your content is to look at emails that had a higher click-through rate. Learn from these emails and focus your content to fit your subscribers.
• What if my email click-through rate is low? If people open the email, it's a sign that you've got their attention and they're interested in learning more about the topic. But if they do not click on your links, it may signal that the content or the call to action you used isn't working for them. It is important that you implement your conclusions quickly, because those users may lose interest and therefore not open your future emails. Return to the data of previous emails you sent and try to figure out when their engagement was better. The call to action you used may not have been clear enough. Could they easily understand what is expected of them? Did you communicate the value they will get from clicking on your link? Also, test if your email is mobile-friendly. Many users read emails through their mobile. If your email is not showing up properly on their cell phone, you may miss the opportunity to engage with these users.
Conclusion
Follow the metrics wisely and plan ahead, in order to get the data you need to improve your email marketing. Focus on the performance of each email as well as trends, changes in your mailing list, and progression toward your goal. If you stay on top this, over time, you will target your campaigns more efficiently.
---