Six Key Factors for High-Impact Email Marketing Campaigns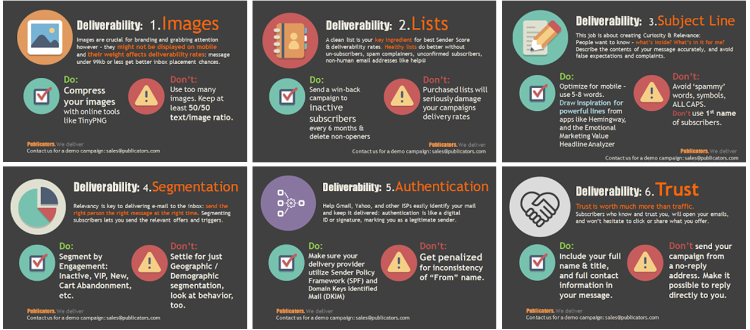 April 14, 2015
Deliverability Do's & Don'ts:
If you send bulk email campaigns regularly, you should master at least the basics of Email Deliverability.
Delivery rate = percentage of emails delivered to subscribers (rather than bounce / land in Spam folder). Many elements affect deliverability - most are the work of emailing service providers (ESPs). However -
Here we picked the ones you can control, and give a short list of Do's & Don't for bulk email marketing success:
1. Images
Images are crucial for branding and grabbing attention, however – they might not be displayed on mobile and their weight affects deliverability rates:
Message under 99kb or less get better inbox placement chances.
Do: Compress your images with online tools like TinyPNG.
Don't: Use too many images. Keep at least 50/50 text/image ratio.
2. Lists
A clean list is your key ingredient for best Sender Score & deliverability rates. Healthy lists do better without un-subscribers, spam complainers, unconfirmed subscribers, non-human email addresses like help@
Do: Send a win-back campaign to inactive subscribers every 6 months & delete non-openers.
Don't: Purchase lists. They will seriously damage your campaigns delivery rates.
3. Subject Line
This job is about creating Curiosity & Relevance:
People want to know – what's inside? What's in it for me?
Describe the contents of your message accurately, and avoid false expectations or complaints.
Do: Optimize for mobile – use 5-8 words.
Draw inspiration for powerful lines from apps like Hemingway, and the Emotional Marketing Value Headline Analyzer.
Don't: Avoid 'spammy' words, symbols, ALL CAPS.
Don't use 1st name of subscribers.
4. Segmentation
Relevancy is key to delivering e-mail to the inbox: send the right person the right message at the right time. Segmenting subscribers lets you send the relevant offers and triggers.
Do: Segment by Engagement: Inactive, VIP, New, Cart Abandonment, etc.
Don't: Settle for just Geographic / Demographic segmentation, look at behavior, too.
5. Authentication
Do: Make sure your delivery provider utilizes Sender Policy Framework (SPF) and Domain Keys Identified Mail (DKIM).
Don't: Get penalized for inconsistency of "From" name.
6. Trust
Trust is worth much more than traffic.
Subscribers who know and trust you, will open your emails, and won't hesitate to click or share what you offer.
Do: Include your full name & title, and full contact information in your message.
Don't: Don't send your campaign from a no-reply address. Make it possible to reply directly to you.
You can find a graphic deck of this guide here: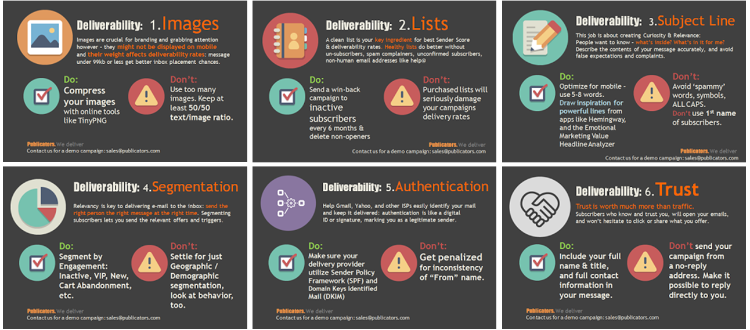 ---