Make the most out of Spam Complaints Report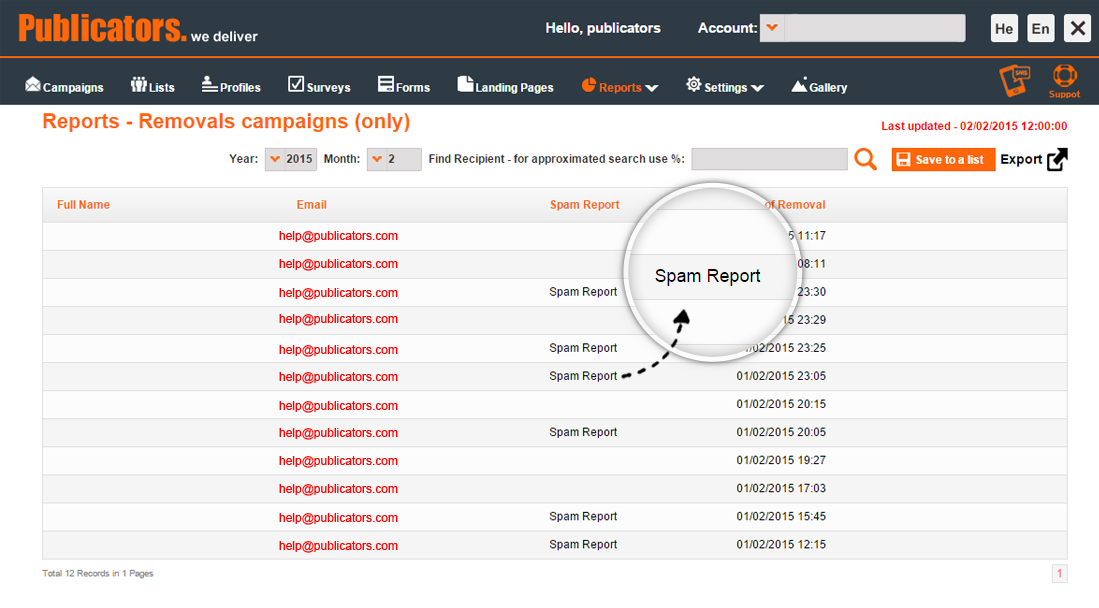 February 03, 2015
What's the Use?
If someone decided to report your message as "spam", it is very important to remove their address from your lists.
Why? Large mail service providers (ISPs) - especially Yahoo and Gmail, aim to protect their users from spam. If you send a complainant another email, you will be marked as a spammer. This will definitely reduce your next email deliverability rates, and possibly block you or instigate legal action against your company.
To protect your Sender Score (reputation), we have developed the Report Spam feature, which you can easily access via your account dashboard.


What You Get From This System Feature?
Thanks to this tool, you will know who reported your email as "spam", so you could immediately remove them from all future mailings and lists.


How Do I Find This Data?
1. Navigate the upper bar to tab "Reports"
2. In the drop down menu, select "Campaign Reports"
3. In this new window, on the orange navigation bar, click on "Removals"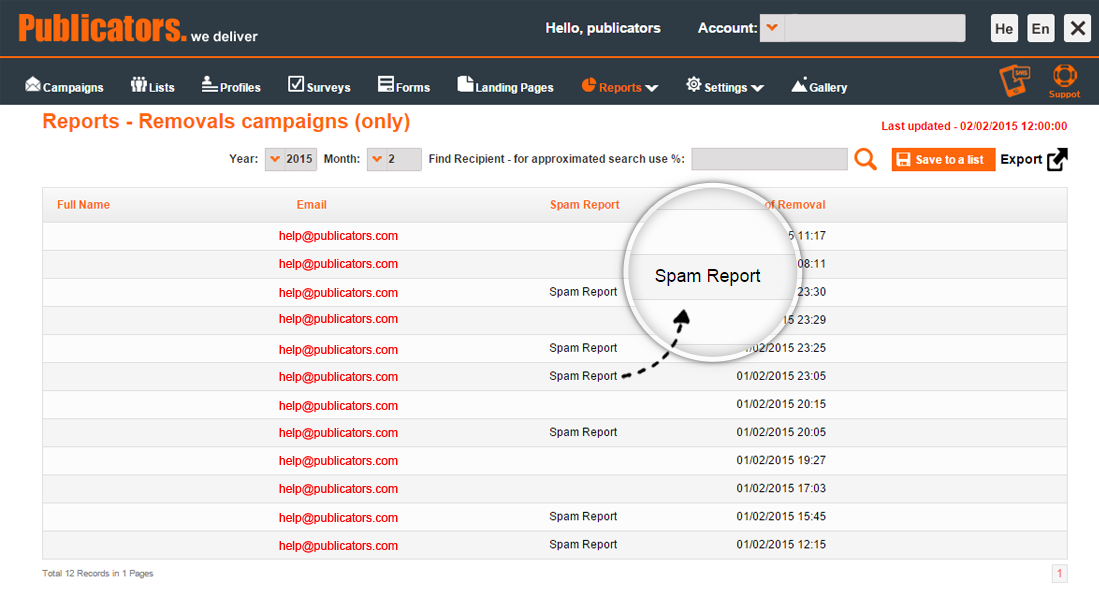 As we are committed to anti-spam policy and work hard to maintain an international Sender reputation. Your awareness to the impact of spam complaints, and the importance of removing the complainers from lists, is crucial for all sides involved.
PRO TIP
The first rule about spam complaints is to make an effort to not receive complaints.
3 of the best ways to avoid complaints are:
A - Make sure the Unsubscribe link is clearly visible, and working properly
B - Do not add to your mailing list any address whose owner did not approve getting your emails
C - Perform periodic "Win Back" campaigns to inactive addresses. For example, every six months send a "We Miss You" message to those who have not opened any of your emails in these past six months. If they do not open this one, remove them from your list as they might be 'spam traps' or totally uninterested subscribers, who might someday complain.
Silver Lining
There is a bright side to spam complaints: whether it is a troll, or just someone who has lost interest, this person signaled to you to remove them immediately. Unopened messages (un-engaged subscribers) lower your Sender Score and deliverability rates, so you are better off without them on your list.
Also - why not treat the complaint as constructive criticism?
If this is not a troll, you may have just received important feedback. Maybe you should examine the design content of your newsletters and improve them, so that they are more useful and attractive.
---